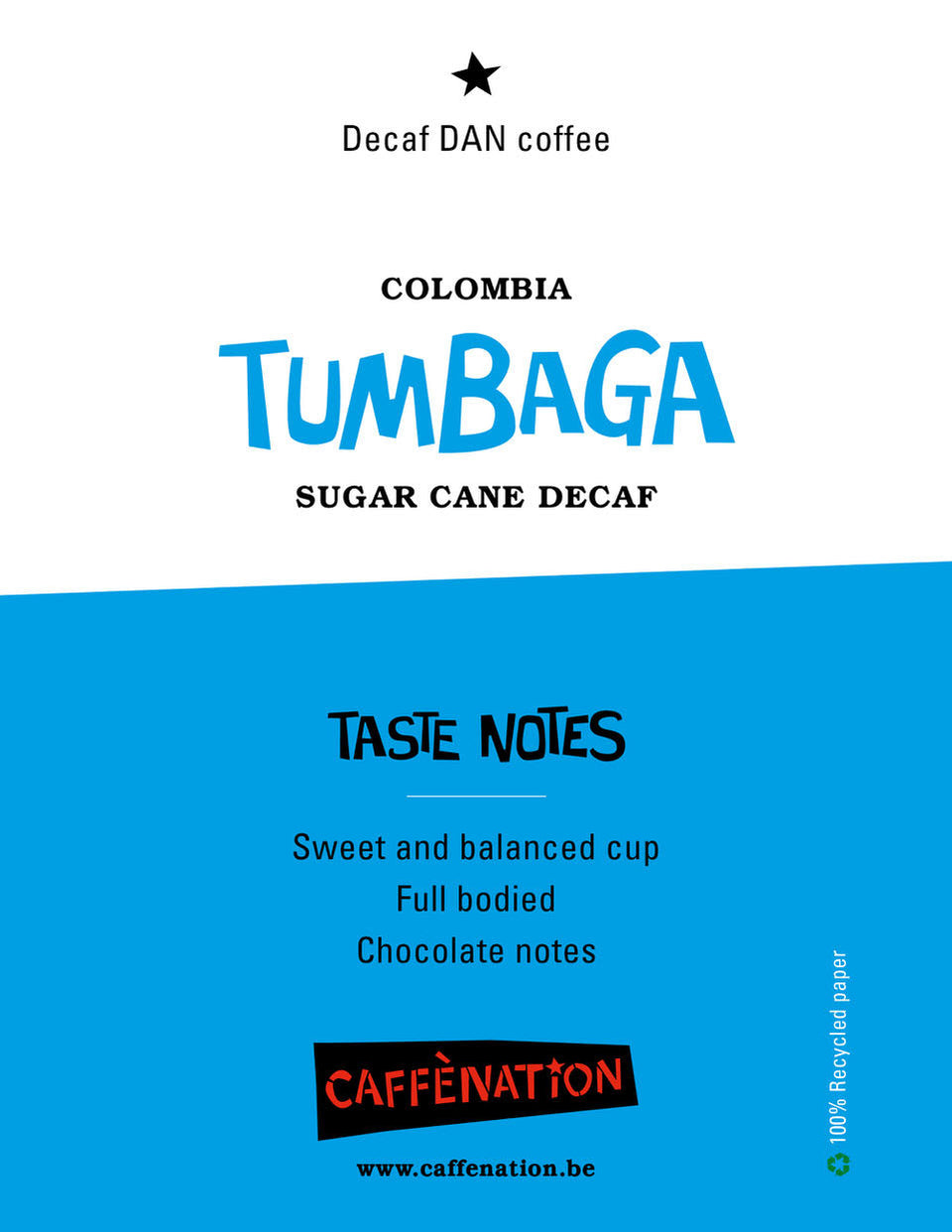 Nespresso compatible Coffee Capsules - Sweet JOSÉ (per 10-eco)
by Caffenation Specialty Coffee Roasters
Sweet and balanced cup
Full bodied
Chocolate notes
Farm: Group of farmers throughout Colombia
Processing: Washed
Altitude: Around 1700 masl
Importer: Sucafina Specialty
Rob Says: Sugar Cane decaf is the bench mark in decaffeinated coffee since 4 years. At Caffenation we can't imagine a life without it. And meanwhile it's 2023, the level of coffee harvesting in Colombia made big progress over the last couple of years and this we can taste in the TUMBAGA; our new crop decaf we recently bought at Sucafina Specialty Antwerp.
Sugarcane decaffeination utilizes a naturally occurring compound, ethyl acetate (EA) to decaffeinate coffee. The EA used in this process is derived from molasses (a byproduct of sugar production). Since  EA is naturally-occurring, the process is labeled as "naturally decaffeinated." 
The EA process is relatively simple. The coffee beans are moistened with water and EA is circulated throughout. The EA binds with the caffeine in the bean and extracts the caffeine while leaving most of the other flavor compounds. After the desired caffeine level is reached, the EA residue on the beans is removed by steaming them.
When you think of Colombia, you think of … excitement. And this time it's all in the taste, 100% smooth decaffeinated, big on body and long on aftertaste. You'll be hooked after the first cup.
Caffenation Nespresso Compatible Plant Based Compostable Coffee Capsules. 
Capsules packed with flavor and fully eco and environment friendly.
Check thegreenring.org for more info.
In one small box fit 10 capsules.